Algolia Places offers fast, beautiful and easy-to-use address autocompletion. Algolia Places provides a fast, distributed and easy way to use address search for Maps Marker Pro and Leaflet Maps Marker. It harnesses OpenStreetMap's impressive open source database of worldwide places.
Terms of services
Algolia Places can be used out-of-the-box without any additional mandatory API key registration. Anyway free authentication is recommended for higher usage limits.
Usage limits
Out of the box Algolia Places allows up to 1.000 requests/domain/day and a maximum of 15 requests/second.
With free authentication up to 100.000 request per domain/month are allowed.
Paid plans with even higher limits are available upon request.
Tutorial: How to sign up for free authentication
Enter your email and choose a password and click on the button "Sign up free"

Click on "API Keys" and then the button "New API key", then add a description for your key:

Optional: add HTTP referers in order to restrict your key to a list of domains (like *.yourdomain.com) – Algolia Support may assist you here if you have questions
Click the button "Generate"
Copy your "Application ID" and the "API key" from the "API Keys" page
Login to your WordPress site and head to Maps Marker Pro / Settings / Geocoding / Algolia and paste those key there:

Save Settings.
---
Reference for all Algolia Places settings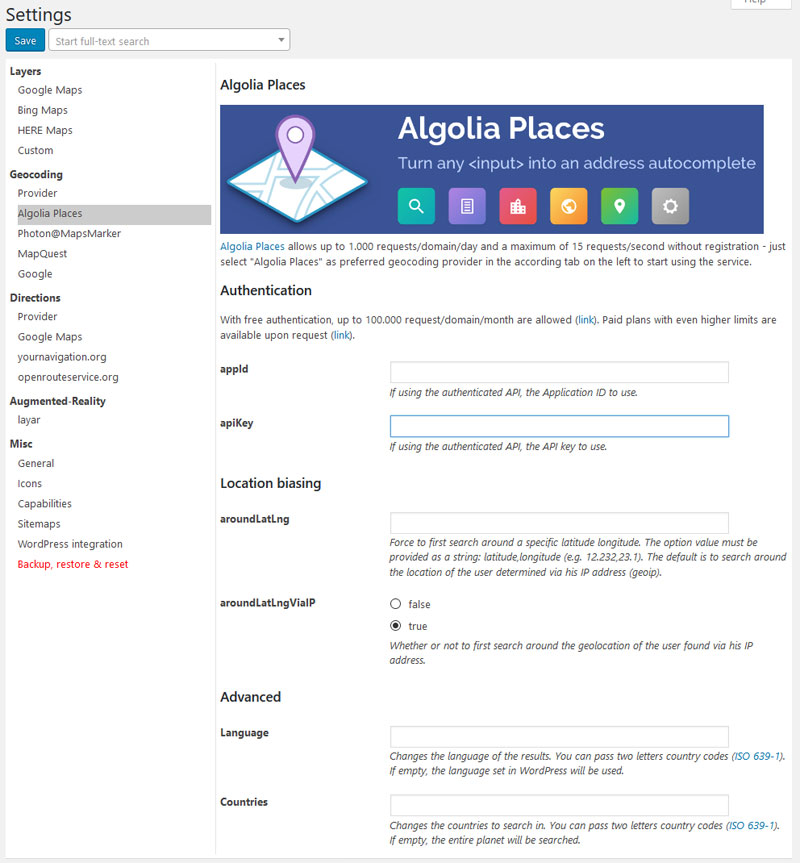 aroundLatLng
Force to first search around a specific latitude longitude. The option value must be provided as a string: latitude,longitude like 12.232,23.1. The default is to search around the location of the user determined via his IP address (geoip).
aroundLatLngViaIP
Whether or not to first search around the geolocation of the user found via his IP address.
language
Change the default language of the results. You can pass two letters country codes (ISO 639-1). By default the language will be retrieved from the WordPress global variable $locale (with a fallback to en if not supported)
countries
Change the countries to search in. You must pass an array of two letters country codes. You can pass two letters country codes (ISO 639-1). Default: Search on the whole planet.