Unforunately layar.com has shut down their services. The integration in Maps Marker Pro will be removed with v4.5.
Maps Marker Pro offers an integrated Augmented Reality API which allows you to display your markers using layar.com. Example screenshot: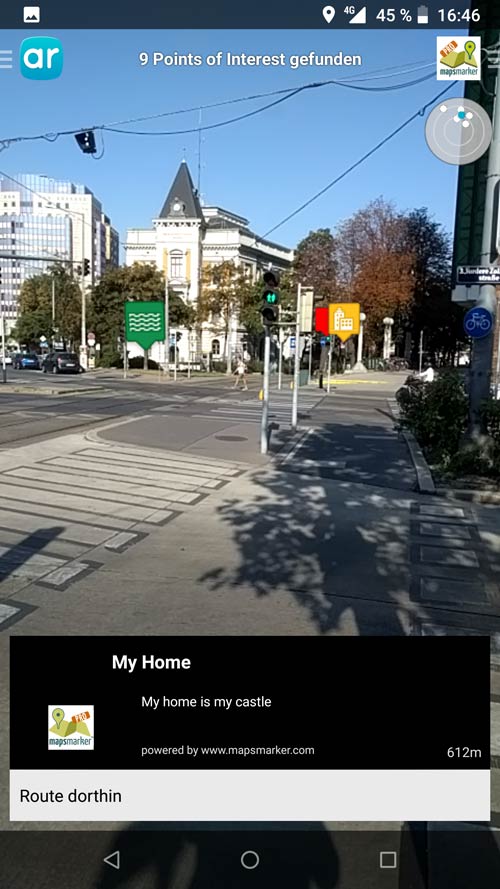 The Layar app itself is available for free for iPhone and Android.
In order to display your markers in the Layar app, please follow these steps:
register a free layar developer account at https://www.layar.com/accounts/register/
Verify your account by clicking on the verification link you will receive via email
login to your layar account at https://www.layar.com/accounts/login/
Create a new layer by clicking on the plus icon:

Add a title for the layer, select "Geo Layer" and click on the button "Create layer":

In the tab overview you neet to set an icon for the layer and choose the visibility (worldwide=default):

As next step you need to to add your Maps Marker Pro Layar endpoint to the layer. So as first step, login to your WordPress account and navigate to Maps Marker Pro / Settings / Augmented Reality / layar, where you will find this information:

As next step, switch back to the layer details on layar.com, change to the tab API and add the Layar API endpoint:
Use Minimum API Version 8.5.
You can optionaloly also add a screenshot URL for your layer.
OAUTH is not supported.
On the METADATA page you need to add aditional metadata about your layer:

The tab GRAPHICS allows you to choose if you want to display the same icons as in Maps Marker Pro or use different icons set on layar.com:
If you want to use custom icons, please first change the option to "Use custom POI icons" (important POI type 1 only as only one icon set is supported) and upload your custom icons, example:

As next step (only if you want to use custom icons), switch back to WordPress, Maps Marker Pro / Settings and change the option "POI icons" to "Use custom POI icons with POI type 1 from dev.layar.com":

As next step switch to tab SETTINGS where you can select which maps should be included in the layer:

See the screenshot above for an example configuration, in which we want markers from maps with the ID 2, 4 and 5 to be displayed by default. Additionally we added a range slider which allows the users to limit the search range, as well as a textbox which user can use for searching marker names.
The tab PERMISSION is optionally and allows you to e.g. set viewing permissions if e.g. the layer is not published yet.
As next step it is recommended to switch to the TEST tab and test if the layer works as desired:
If you want to test your layer in the layar iOS or Android app before publishing, proceed as follows:
– Open the layar app on your mobile
– select "user settings" from the menu and login using your developer credentials
– select your unpublished layer from the layer-menu
Before publishing your layer, please navigate to WordPress / Maps Marker Pro / Settings and check if the layar settings fit your need here too:
Setting an imageURL is recommended here, as this image will be displayed in the "Brief Information Widget" for every POI (point of interest):

Navigate back to layar.com and finish by publishing the layer by clicking on the button "PUBLISH LAYER" in the header:

That´s it – as a result all layer user should be able to see the markers from your maps using the layar augmented-reality app.
After the layer is published you will also see a link to the layer´s public page in the OVERVIEW tab, which you can use to easily share your layer to your users (which do not have the layar app installed yet):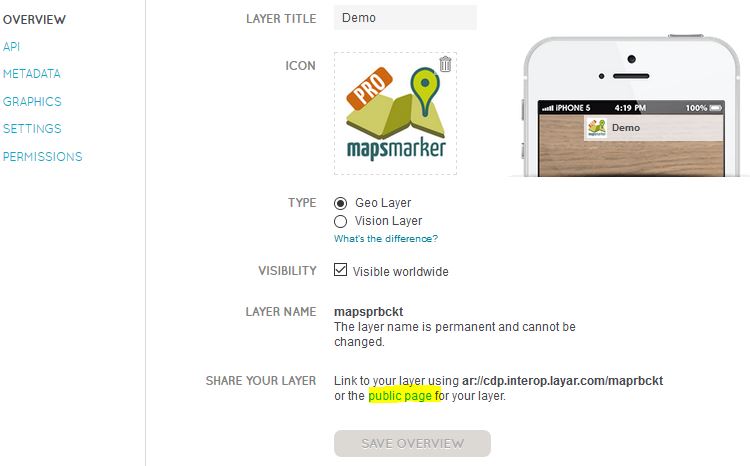 Example public page for a layer on layar.com: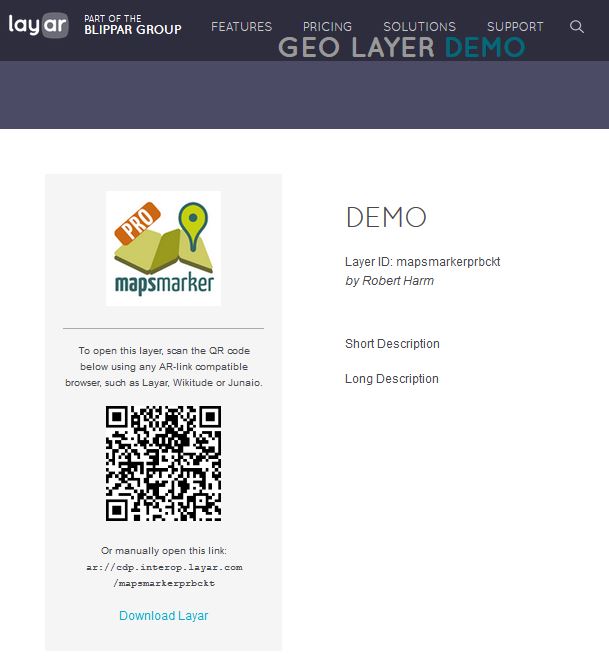 If you have any questions about this tutorial, please open a support ticket.