Important notice: due to MapQuest basemaps now requiring their own API, making them incompatible to be implemented into a standard Leaflet installation, we had to remove MapQuest basemap support with Maps Marker Pro v4.0. Existing MapQuest maps will be switched to OpenStreetMap automatically during migration from v3.1.1 to v4.0.
Since July 11 2016, MapQuest requires to sign up for a plan on their Developer Network if you want to use their maps on your site!
A free API key allows up to 15.000 transactions/month. Higher quotas are available on demand – click here for more details.
Tutorial: How to sign up for a free API key
Please note that if you already signed up for a MapQuest API key for geocoding, you can also this key for MapQuest basemaps!
Sign up for a MapQuest account at https://developer.mapquest.com/user/register
Select "Keys & Reporting" from the menu and click on the button "Create new key"

Choose an app name and press "Create App"

Open app details and copy your "Consumer Key" to your clipboard:

Login to your WordPress site and head to Maps Marker Pro / Basemaps / Mapquest  and paste this key there:

Navigate to Settings / Basemaps / "Available basemap in controlbox" and tick the checkbox next to the MapQuest basemaps:

Save Settings.
Done – you should now be able to select MapQuest basemaps when creating new marker or layer maps: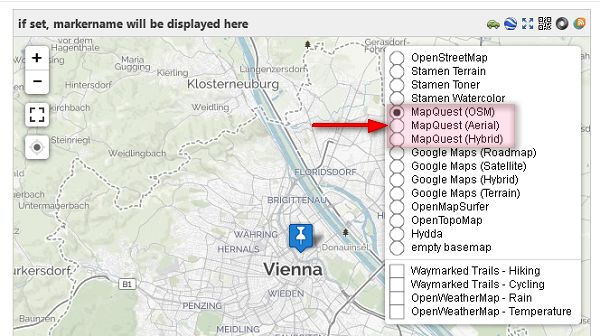 If you experience any issue with your MapQuest key, please check the MapQuest support forums at https://developer.mapquest.com/forum for assistance.