Important notice: the (depreciated) Mapbox v3 had to be removed – we plan to re-add Mapbox support (v4) with a future release. Existing maps using custom mapbox basemaps in v3.1 will automatically be switched to OpenStreetMap during migration to Maps Marker Pro v4.0.
Since January 2015 Mapbox.com requires new users to use their API v4, which means that a custom API access token is needed if you want to display custom Mapbox basemaps.
Mapbox accounts created before January 2015 will currently continue to work (even with the free version) – anyway in the long run it might be possible that Mapbox decides to discontinue API v3 support for existing users too, so an update to API v4 is highly recommended!
This tutorial shows you how you can get a free API access token and setup custom Mapbox basemaps within Maps Marker Pro (v2.1 or higher only).
Important information:
With Maps Marker Pro v2.9 currently only Mapbox styles created with the "Mapbox Classic Studio" are supported: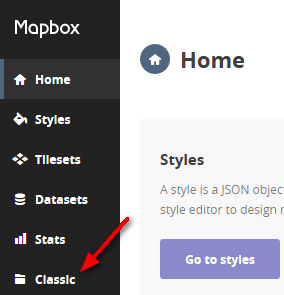 With Maps Marker Pro v3.1 we plan to add support for the current Mapbox studio.
How to register for a free API access token
Mapbox offers different kinds of plans for the usage of their service. You need at least a free "Starter plan", which includes 50.000 map views a month and 1 custom style created with Mapbox Studio. If you need more map views or custom styles, please select another plan – details available at https://www.mapbox.com/plans/
Signup for an account at https://www.mapbox.com/
Signin to your account at https://www.mapbox.com/

click on "Projects" within the header navigation and save your API access token (will be needed later).

How to configure custom Mapbox basemaps within Maps Marker Pro
On Mapbox.com click on Projects in the header navigation
Click on "New Project":

Choose from one of the pre-defined styles or create or your own style by using Mapbox Studio:

Please note that any "Data" added via the Mapbox editor (Marker, Lines, Polygones) will NOT be shown within Maps Marker Pro – only the selected Style will be used!
Finish your project by clicking on "Save" and click again on "Projects" in the navigation header
Copy your Mapbox Map ID to clipboard:

Switch to Maps Marker Pro and go to Settings / BaseMaps / "MapBox 1 Settings":

In our example, our Mapbox ID was myUsername.l1k2gk56 – so take first part myUsername and copy it into the field "User", then take the second part l1k2gk56 and copy it into the field "Style". Do the same with your API access token you copied earlier.
Now change the name of the custom Mapbox 1, which is displayed in the layer control box within the map. To do that, please navigate to Settings / "Map Defaults" / "Names for default basemaps" and update the name according to your needs, finish by saving the settings:

Please also make sure that the Mapbox custom layer is available for selection within the layer control box (this step is optional if you did not change the default settings here). To verify this, please navigate to Settings / "Map Defaults" / "Available basemaps in control box" and make sure that the according Mapbox options are ticked:

After having saved the settings within Maps Marker Pro, you are now able to use your custom Mapbox basemap for new maps:

For questions regarding Mapbox editor please contact Mapbox support – for any issues related Maps Marker Pro integration, please open a new support ticket.