Today I discovered a review of my plugin on the blog Fetch for WordPress, titled "Making Maps With WordPress – Free and Premium Map Plugins":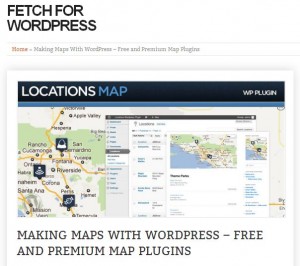 I was happy to read that my plugin was listed first, followed by a quite friendly review:
Leaflet Maps Maker is an advanced and versatile plugin that allows for hundreds of maps. It uses markers that can be combined into layers and then inserted with a shortcode to display maps. The plugin also incorporates simple location search with Google Places and allows for the use of custom map tiles. Leaflet uses OpenStreetMap data and tiles by default and includes 800+ marker icons for most situations. This plugin is one of the most powerful plugins, although simple setup is decently easy. The interface isn't beautiful, but the maps are and the plugin is completely free.
I know – the interface is not that beautiful. But as often said on Twitter – I am a programmer and no designer 😉 – which is why I am for example still looking for someone to help with the header image of mapsmarker.com and the plugin image on the WordPress plugin site. 🙂
If you happen to know other blogs featuring my plugin or if you would like to write your own review, I´d be really happy to know and will of course help spread your article 🙂