I just released v1.4-beta1 with the following highlights:
support for CSV/XLS/XLSX/ODS import and export for bulk additions and bulk updates of markers
Norwegian (Bokmål) translation thanks to Inge Tang, http://drommemila.no
lots of other optimizations and bugfixes
Screenshots on the new import/export feature, which can be accessed through the the new menu entry "Import/Export":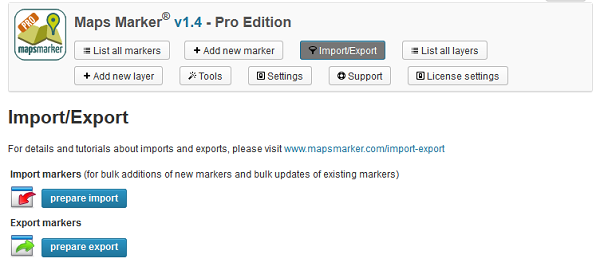 "prepare import" dialog: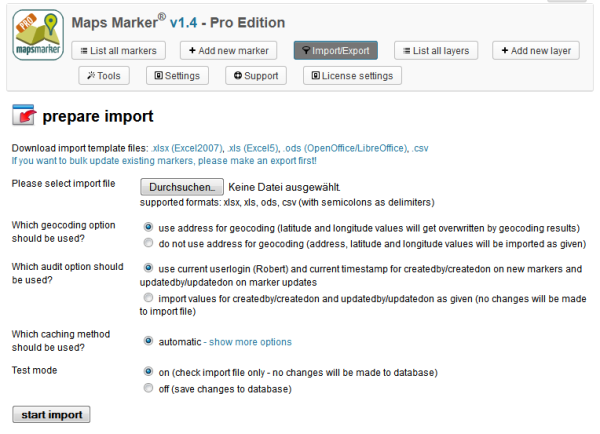 "prepare export" dialog: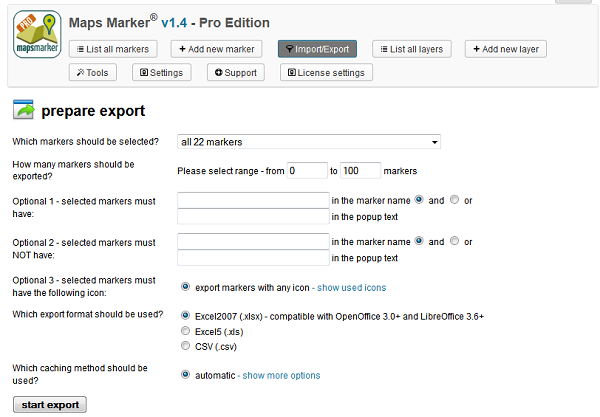 Documentation and tutorials will follow till v1.4 final release. I kindly ask you to test this beta release as thoroughly as possible – especially by using special chars!
If there are no more blocker bugs found in this release, v1.4 final (with more detailled release notes) will be released on November 17th.
how to update to 1.4-beta1
Warning: it is not recommended to install 1.4-beta1 on production sites – use on your own risk!
In order to be able to update to 1.4-beta1, you first have to set beta-testing in settings / misc to enabled:

As next step, navigate to Plugins and click on the link "Manually check for updates" next to Leaflet Maps Marker Pro:

Finish by clicking on the link "Update now":

feedback and suggestions?
Please use the helpdesk for bugreports, feedback or suggestions.
Update 11.11.2014
I also updated the demo site at http://demo.mapsmarker.com with v1.4-beta1 – so you can also test the import there if you have no pro license yet 😉