Since January 1st 2015 the new VATMOSS EU tax rules apply to all online transactions with customers within the European Union, resulting in online shop owners having to pay VAT taxes in the country of their EU-customers instead of the country where their business is located in. For Maps Marker Pro customers no changes are needed – the new requirements only affect shop owners like me 🙁
Anyway these new rules have been criticized a lot and led to petitions demanding to uphold the VAT Exemption Threshold for businesses supplying digital products for example – unfortunately these protests didn´t succeed yet in relieving the requirements for SMEs or startups.
Mapsmarker.com uses the popular business automatization solution www.spbas.com, which also offers a report engine to build custom reports. In order to be able to comply with the new EU tax rules, a report was now implemented which calculates the individual tax rate based on the custom tax rate of each EU country. In addition, the report also lists the number of sales per country (also for non-EU-countries):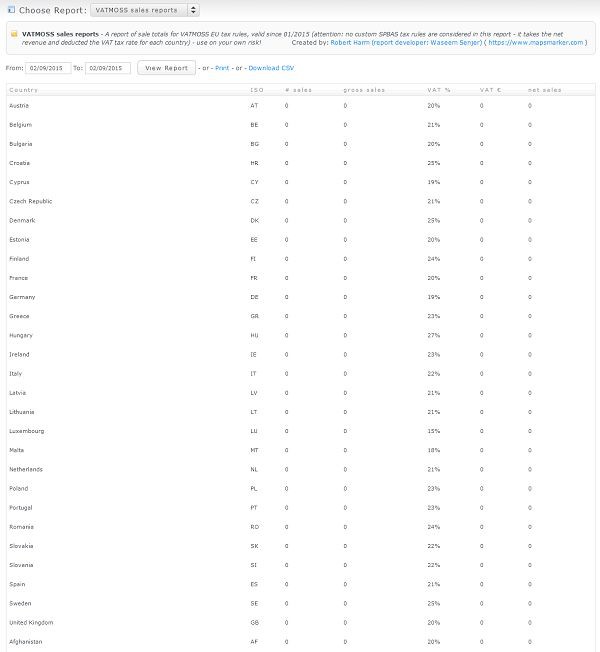 Please be aware, that custom country tax rates defined within SPBAS are not taken into consideration for this report (net revenue is considered as gros revenue and  VAT tax rate is deducted for each country only)! So please adjust the report according to your custom business needs! I also do not take any guarantee that the report data generated is valid for your business, please consult a tax accountant in case of doubt!
Anyway I decided to make this report available as template for free download to all SPBAS users, hopefully helping less-IT savy SPBAS users to comply with the new EU tax rules. Please be aware that I do not give support for this report – in case you need custom modifications, please contact the report developer waseem.senjer@gmail.com who might be able to help you within the scope of a custom project.
To install the report, download this zip file and unzip into the following spbas-folder: /admin/modules/reports/modules
The report should be available on backend afterwards automatically.