We are happy to announce that Maps Marker Pro v4.6-beta1 is available, featuring support for TomTom maps and geocoding as major highlight: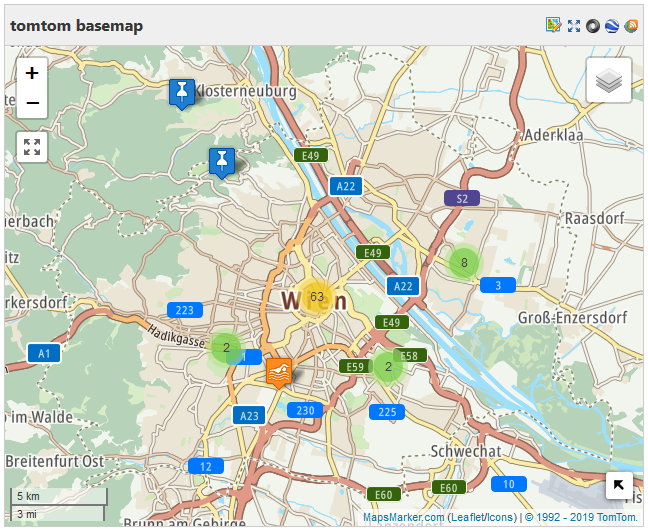 Full changelog
Changelog for version 4.6 - released on - not yet, planned for end of August 2019 (release notes)
support for TomTom basemaps and geocoding
optimized GPX parser and new options (fixed Y-axis range, interval markers, chart indicator, gpx control)
add option to filter for unassigned markers
add option to disable API endpoints
add option to change GPX start and end icons
optimize default values for line and fill colors for GPX elevation charts
optimize map loading logic and add error handling
adjust elevation chart scale when using imperial
optimize and improve CSS
update es6-promise to 4.2.8
show message in chart when no elevation data available
fix tooltip colors not being applied properly
span gaps on elevation chart for missing data points
low quality geocoding results for Google Places API
fix minimap display issues when map is in a tab
prevent JS error on edit marker page if no basemaps are available
fix marker count on list markers page being wrong in some cases
updated German translation by Maps Marker Pro team and Daniel Luttermann
→ contribute
updated Japanese translations thanks to Shu Higash and Taisuke Shimamoto
→ contribute
Let us you think about this new release & send your feedback by using our helpdesk (prefered) or directly via email to feedback@mapsmarker.com.
If no major issues are reported, v4.6 final is planned to be released by the end of August.
how to update to 4.6-beta1
Warning: it is not recommended to install 4.6-beta1 on production sites! In addition we recommend to backup your site (especially the database) regularly so in case of an issue with this beta release you can always perform a full rollback if needed! 
In order to be able to update to this beta release, you first have to set beta-testing in settings / misc to enabled:
As next step after saving your settings, navigate to Plugins and click on the link "Manually check for updates" next to Maps Marker Pro:


Finish by clicking on the link "Update now".
That´s it – now you can start using Maps Marker Pro v4.6-beta1.
how to install 4.6-beta1 from scratch
For directly downloading and installing the v4.6-beta1 package as zip file, please click here.
how to rollback to v4.5
Download v4.5 from our archives and replace the files in the folder /wp-content/plugins/maps-marker-pro. A database restore for wp_mmp* tables is optional, but recommended.