Maps Marker Pro is built on the javascript framework leaflet.js, which supports OpenStreetMap and Stamen basemaps out of the box without any additional configuration or mandatory API keys. If you want to use Google Maps though as basemap, you have to register for a Google Maps API key – related details and links about terms of usage, pricing and billing can be found here.
Important update from Google regarding upcoming changes coming into effect on 11th June 2018:
"Today (3. May 2018) we are announcing important changes, including our new name – Google Maps Platform, a simplified product structure, pay as you go pricing for all, and more. Please take a few minutes to review the announcement to familiarize yourself with the upcoming changes.
We would like to highlight a few updates that may impact your implementation. Beginning June 11th, we are launching our new pricing plan and providing all users access to support. We'll continue to offer a free tier — all developers will receive $200 of free monthly usage of our core products.
In addition, this change will require you to enable billing and associate it with all of your Google Maps Platform projects. Creating a billing account helps us better understand your usage so we can continue developing helpful products. It also allows you to scale easily with less downtime and fewer performance issues if your product grows beyond the $200 of free monthly usage. For additional visibility and control you can set daily quotas or billing alerts."
For a summary on how this affects you as Maps Marker Pro user, please have a look at our FAQ at https://mapsmarker.com/google-maps-tos-changes
So if you want to use Google Maps as basemaps, you need to register an API key that can be obtained from the Google API Console and enable the "Google Maps Javascript API" within Maps Marker Pro respectively Leaflet Maps Marker.
Terms of services
Google´s related Terms of Services can be found at https://developers.google.com/maps/terms.
Usage limits
Important update from Google regarding upcoming changes coming into effect on 11th June 2018:
If you enable Google Maps JavaScript API within Maps Marker Pro to use Google Maps as basemaps, the following Google APIs will be used and billed according to the terms by Google:
As Google gives all developers $200 of free monthly usage, only loads which exceed this amount will be directly billed by Google.
Tutorial: how to register for a Google Maps API key and enable Google basemaps for Maps Marker Pro / Leaflet Maps Marker
Prerequisite: you must have a Google account to generate a key for Google Maps Javascript API.
Starting with 11th June 2018 you must also enable billing!
Go to the Google Maps Javascript API console
Click 'Get A Key'.

Sign in with your Google Account (or create a new one first)

a. If you want to use an existing project, please select it from the list.

b. Otherwise, select 'Create a new project', enter a project name and click on "Create an enable API":


Copy the generated key from the popup

Optional, but recommended to prevent quota theft: click on the link "API Console" below your API key and set a HTTP referrer for your key so that it can only be used on your domains:
– choose "HTTP referrers (web sites)" from "Key restrictions"
– enter your domain(s) in the format *.yourdomain.com/* to "Accept requests from these HTTP referrers (web sites)"
– finish by clicking the "Save" button

Optional: Enable billing. See Usage Limits for more information. (billing is mandatory starting from 11th June 2018)
Log in on your WordPress Admin and navigate to Maps Marker Pro / Settings:

navigate to Basemaps / "Google Maps Javascript API", enable "Google Maps Javascript API" enter your API key from step 9 into the field "Google Maps JavaScript API key" and press "Save Changes":
Done. Now you should be able to create new marker and layer maps using Google Maps as basemaps: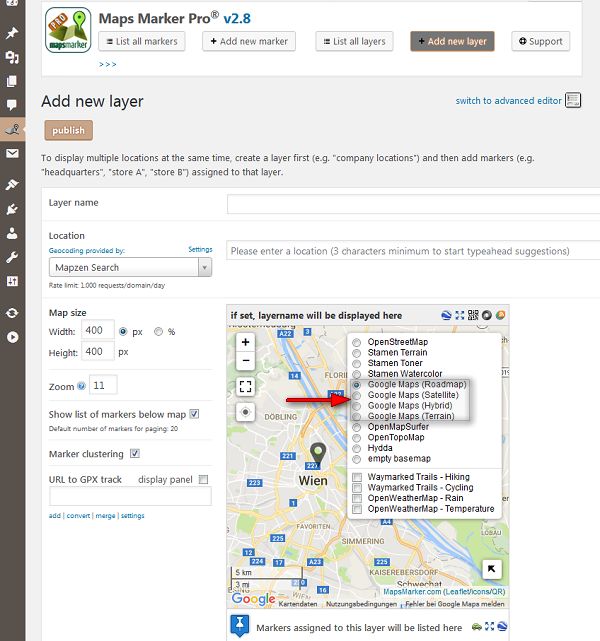 If you experience any issues, please open a support ticket and we will be glad to help!