Our affiliate program offers an initial 25% commission for each sale delivered and the commission rate gets increased automatically by 1% for each €250 commission earned – up to a maximum of 50%!
In addition we offer 3-tier-levels: recruit new affiliates and receive an additional 5% commission from their sales on each level.
For more details about our affiliate program and payout examples please visit https://affiliates.mapsmarker.com/
If you want to use your affiliate link on each map instead of the default MapsMarker.com-backlink, please follow this tutorial:
1. if you are not yet an affiliate, please sign up at https://affiliates.mapsmarker.com/signup.php
2. login to the affiliate dashboard at https://affiliates.mapsmarker.com/login.php
3. copy your affiliate ID from the default affiliate link shown to you in the dashboard – in our example, the ID would be 100

4. switch to your settings page of Leaflet Maps Marker (Free or Pro) and enter your affiliate ID in the option field "Affiliate ID" in Settings / Misc: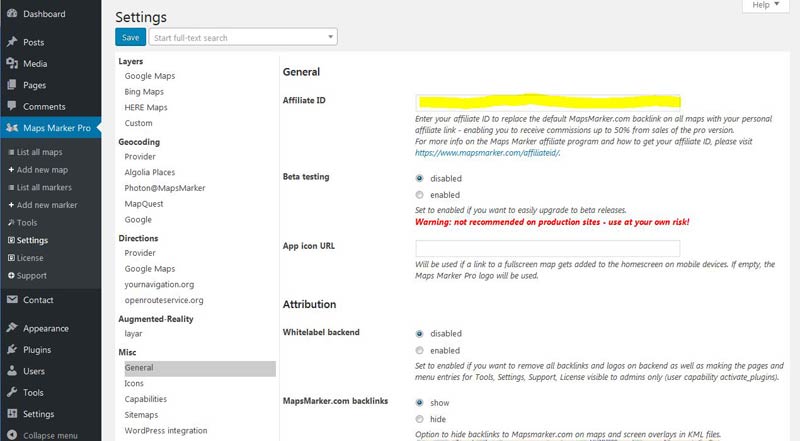 5. save your settings by clicking the button "Save" 
That´s it. Now whenever users click on one of your links, they will be brought to our website and their activity will be tracked by our affiliate software. If they buy a pro license within 60 days, you will earn a minimum commission of 25% of sales volume (up to 50% maximum).
Please note that within the affiliate dashboard you will also be supplied with a range of banners and textual links that you can place within your site.
If you have any more questions about the affiliate program, please also check the affiliate FAQ and the affiliate agreement – if your question is not answered there, please send an email to affiliates(a)mapsmarker.com – we will be glad to help!
---