LocationIQ offers affordable, scalable and reliable location services since 2013. They serve 50k+ developers who make 2 billion+ requests each day. Their geocoding service can also be used within Maps Marker Pro after signing up for an access token.
Terms of services
LocationIQ can be used after registering a mandatory API key. The related terms of services can be found at https://locationiq.com/tos
Usage limits
With their free plan, locationIQ allows up to 10.000 requests/day and a maximum of 60 requests/minutes and 2 requests/second
Larger plans are are available for higher usage limits.
Tutorial: How to sign up for free authentication
Head to https://locationiq.com/register
Enter your Full name and work emails and click on the button "Signup"

(you will receive a token as a result)
Login at https://my.locationiq.com/dashboard/login with your Email and token

Navigate to "Account details" and create an access token by clicking on "Create access token":

Copy your "Access token" to the clipboard
Login to your WordPress site and head to Maps Marker Pro / Settings / Geocoding / LocationIQ and paste that key there:

Save Settings.
---
Reference for all LocationIQ settings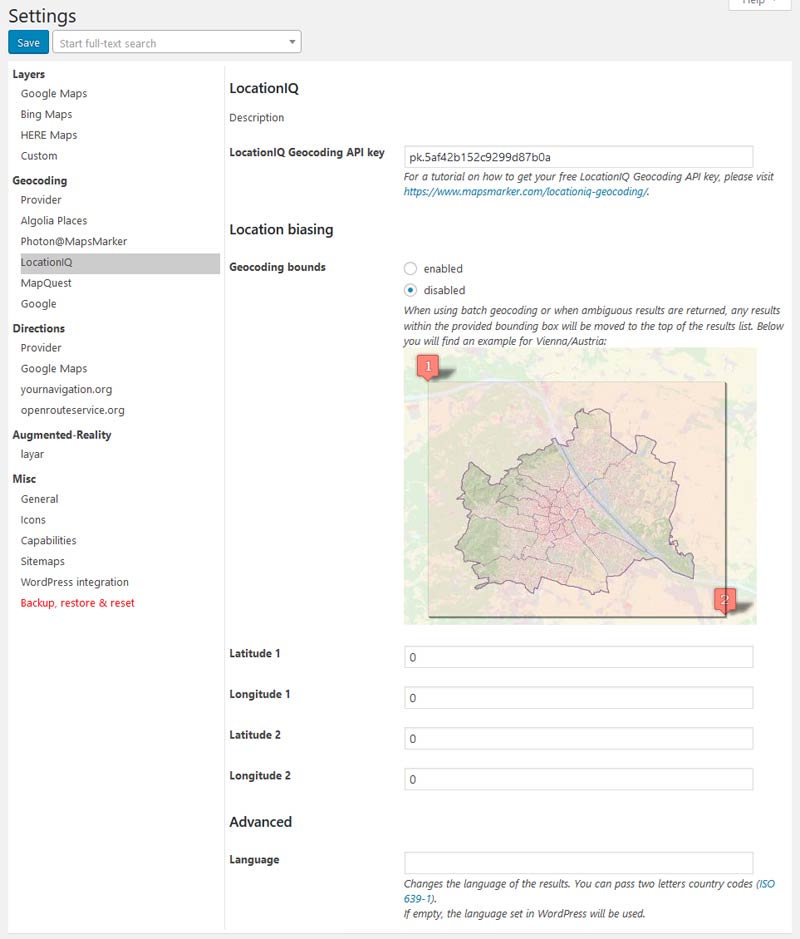 Geocoding bounds
When using batch geocoding or when ambiguous results are returned, any results within the provided bounding box will be moved to the top of the results list.
language
Change the default language of the results. You can pass two letters country codes (ISO 639-1). By default the language will be retrieved from the WordPress global variable $locale (with a fallback to en if not supported)