Photon@MapsMarker is an open source geocoder built for OpenStreetMap data and run by Mapsmarker.com. It is based on elasticsearch – an efficient, powerful and highly scalable search platform.
Photon was started by komoot and provides search-as-you-type and multilingual support. It's also used in production with thousands of requests per minute at www.komoot.de.
The underlying OpenStreetMap search index is updated at the beginning of every month.
Terms of services
Photon@MapsMarker can be used out-of-the-box without any additional mandatory API key registration.
Usage limits
The following usage limits are applied:
Maps Marker Pro: 10.000 requests per IP/day and a maximum of 20 requests/second
Leaflet Maps Marker: 1.000 requests per IP/day and a maximum of 5 requests/second
Higher limits are currently not available but may be added with a later release. If you are interested, please get in contact!
Current usage & availability
You can check the availability of Photon@MapsMarker at https://stats.uptimerobot.com/5Qw6pHMpP
---
Reference for all Photon@Mapsmarker settings

Language
By default, the language for search results is automatically determined based on your WordPress language settings, with a fallback to English if unavailable. If needed, you can also manually set the language to English, German, French or Italian (new translations may be added in the future).
Location Biasing
To focus your search based upon a geographical area, please provide latitude and longitude values.
In order to get longitude and latutide values for a desired location/area, please search for an address, switch to advanced editor and copy the latitude and longitude values: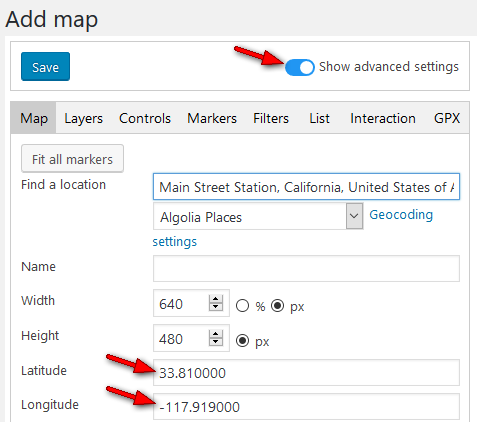 Filter results by tags and values
If you want to use advanced filtering for search results, please click here for a detailed documentation.