The Map Icons Collection is a set of more than 700 free icons to use as placemarks for your POI (Point of Interests) locations on your maps. The project was originally created by Nicolas Mollet and thanks to many contributors it has become a central ressource for free map icons on the internet over the years.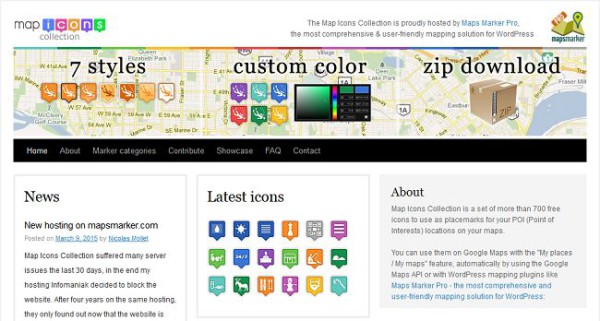 Maps Marker Pro has also been configured to work out of the box with those icons (you can even use the integrated upload feature to easily enhance the default icon set shipped with Maps Marker Pro):
Unfortunately the Map Icons Collection suffered many server issues lately. In the end the former hosting provider decided to block the website as they considered the usage was against their hosting policy (more details here).
In order to help Nicolas and to deliver a more reliable hosting for all users of the Map Icons Collections (including Maps Marker Pro users), I agreed with him to host the project website on https://mapicons.mapsmarker.com (thx to my hosting provider twosteps.net for quickly helping out here!)
The project rules and usage conditions of the Map Icons Collection will not be changed through this hoster change: Nicolas will continue to lead the project and icons are still available under the Creative Commons 3.0 BY-SA license.