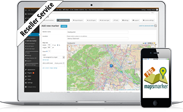 If you are a web design/development and/or online marketing agency or developer would like to add another great service to your existing offer, you can now resell the Maps Marker Pro plugin as your own to your own clients.
As a Maps Marker Pro reseller, you can add customers on your own and place orders on the customer's behalf; at a 20% discounted price sheet rate. For each successful order the packages and assets will be provisioned to the resold customer account; while the order & invoice stay with the Maps Marker Pro reseller.
Furthermore you can whitelabel the plugin: this will remove all backlinks and logos on backend, rename menu entry "Maps Marker Pro" to "Maps" as well as making the pages and menu entries for Tools, Settings, Support and License visible to admin users only.
What does this mean for your business?
Increased revenue and profits
Extra up-selling opportunities to existing and new clients
A professional premium plugin delivered to your clients, keeping them happy for longer
Higher lifetime client value
How much can you earn?
Each reseller can place orders on the customer´s behalf with a 20% discount on all available packages. You're free to charge your clients whatever and however you like.  All of your billing happens directly between you and your clients and is not managed by us.  You can charge a setup fee, recurring subscription & management fees, or any combination of these.
For more information please visit https://www.mapsmarker.com/reseller